The famous Toyokan, even the name of the historic French quarter
The famous Toyokan, even the name of the historic French quarter

A famous Toyo-kan, even the name of the historical French quarter. The official name is "Asakusa French Seiaten Toyokan".
Currently it is an entertainment venue centered on various things (manga, comic etc). We are proud to be a part of the historical Asakusa comedian culture, along with the sister pavilion and Asakusa entertainment hall (vested in rakugo center) that make buildings the same. While inheriting the tradition since "Asakusa French", we are looking forward to your visit to this theater, which is also a new "comedy launch base".
Please use by all means in Asakusa sightseeing.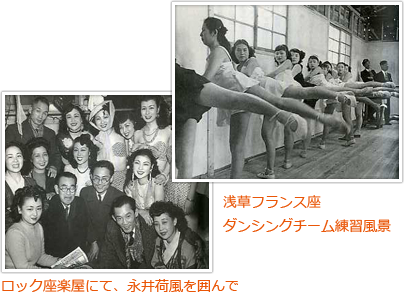 The history of "Asakusa Toyo-kan" begins with "Asakusa French" which opened in 1951. To Asakusa French Theater which was a strip theater, Kagami Nagai Kaze also enthusiastically passed. The generous Nagai Kenshu says that the dancers were very popular.
In addition, we played a light performing theater such as a contest between strips.
This became a reputation, and "Toyo Theater" will be born in 1959.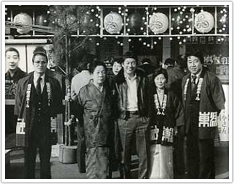 Beat Takeshi and the staff
On the stage of the oriental theater, Atsumi Kiyoshi, Nagato Isamu, Yuri Toru, Tohachiro etc played a comedy and gained popularity.
Also, along with the opening of the oriental theater, Asakusa French has moved to the 4th and 5th floors of the building. At the same time an elevator was set up, but Beat Takeshi was hired as an elevator boy afterwards.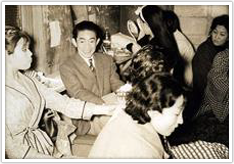 Asakusa French seat back room Enoken visit
In 1964, Asakusa French Association once took down a sign, the system of Toyo Theater on the 1st floor, Asakusa entertainment hall on the 4th floor and 5th floor will continue for a while.
And in the Showa 46 (1971), when the oriental theater is closed, Asakusa French will open again.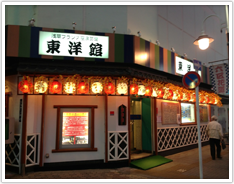 Current appearance
It is the Asakusa Toyo Building of "Specialty Theater of Color".
After that, Asakusa French seat closed again in Showa 57 (1982). It opened three times in the Showa 62 (1987) year, but it was closed occasionally in Heisei 11 (1999).
It was the New Year's Day of Heisei 12 (2000) that it opened as Asakusa Toyokan after renovating Asakusa French.
Since then, Asakusa entertainment hall centered around rakugo and the Asakusa Toyokan in Asukusa specialty theater of Asukusa specialty theater do not rest for 365 days, we are doing performances.
Asakusa is a town full of Tokyo Sky Tree completed as a tourist destination.
We will provide programs that you can enjoy for customers of various generations.
Today's Asakusa
2021-9-27

Today's Asakusa.The temperature is neither hot nor…
Custom Search