Imado shrine Asakusa sightseeing seven lucky god Fukrokuju
 Imad shrine that deified the Hukurokuju is, Emperor Go-Reisen 1063 years, Ouu Shimonoseki General Sho Iyamori Genjiri Yoshiya Paternity when there is, it Ebisuzoku Abe SadaTsutomu (Abeno of Oshu by royal command rattan) SoTsutomu (folding of subjugation of Muneto U), of all excited prayer and that was Emotion the Yahata Kyoto stone Shimizu in the Tsuruke hills and Asakusa now Noriyuki Tsu of Kamakura (now Imad) Yawata Imad (now Imad Shinto shrine) will be built.
After that, Emperor Shirakawa EiTamotsumoto (1081) years, for the Kiyoharanotakehira-Iehira subdue that caused the rebellion, was to pray for victory Upon Minamoto no Yoshiie passing through the Tsu is Noriyuki now. It was worthwhile to keep the winning battle, and Yoshiie repaired the virtue and restored the shrine.
It was often rebuilt every time a war battle ranged.
n the Edo era, the third generation Tokugawa Iemitsu was given official materials for the reconstruction of Imado Yawata, and ordered Soushu Funakoshi and Tajimanokami Yagi to rebuild it in 1636.
Taisho attributed by the Great Kanto Earthquake of 12 September shrine to once again ashes, I have met with hardship in the affected repeatedly in Tokyo Air Raid of 1945 March but was soon reconstruction.
While repeating the history of the
Such a disaster → reconstruction, the 46 November, the current solemn shrine has been erecting by Jozai of parishioners revered person.
Meanwhile, in July 1975 Showa Hakusan shrine was guarded in the immediate neighbor of Imado Shrine, the company name was renamed Imodo Shrine.
 Emperor Yandosu and his mother Shingon Empress imported the continental culture and are promoting the culture of Japan and it is well known that the relationship between the two gods is the appearance that the faith of mother and child's affection was in ancient Japan is. So Yawata's faith is generally thought of as a memorial service by Naga Okamoto, but on the other hand my mother embraces my child and has a love of love that brings forth grace with compassion.
The god of the two pillars of Izanaghi and Izanami is a god of men and women who are said to have produced mountains and plants and create mountains of Japan by creating the land of Tenjin in response to the life of Tenjin, It is said to be a god of. It is worshiped as a god who connects the edge and consolidates the foundation of production, without seeing "Kojiki" and "Nihon Shoki".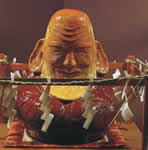 Fukuro-jusu, enshrined at the Imoto Shrine, has a mild appearance of white-haired baby's face, collecting the respect of people as a god of luck.
Today's Asakusa
2018-12-18

Asakusa today.Hatto shi shi middle Japan day 18 is…
Custom Search